If you're looking to get the most out of your Dynamics 365 investment, or if this is the year for you to upgrade and you're in the market for a new CRM, you'll find huge value on the roadmap for Microsoft business applications in 2022. CRM is no longer just a system for sellers to record their activities – it is now truly integrated with the broader technology landscape, encompassing collaboration, productivity, customer experience, data, and AI. Here are the top trends to watch in business applications this year, and how they can help you transform your business.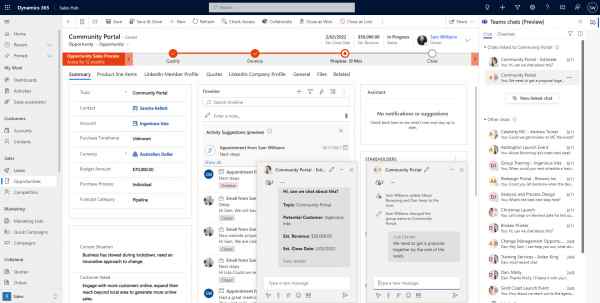 .
1. Collaboration and business applications
Remote work has pushed us all deeper into online collaboration tools and virtual meetings than ever before, and Microsoft Teams has become the go-to application many of us now work in every day. This is the year when we rethink the relationship between business applications and collaboration – rather than switching back and forth or adding collaboration notes into our CRM system, we work primarily in our system of collaboration, with Dynamics 365 working seamlessly together with Microsoft Teams. Already, Dynamics 365 users can stay in the context of their CRM and use full featured embedded Teams chat to reach out to others to collaborate on closing deals. Later this year we will be able to bring business applications data into Microsoft Teams using visually appealing and fully interactive cards, enabling your whole organisation to collaborate in the sales process with no additional licensing cost. This will be an area to watch closely in 2022, with Microsoft expected to continue investing in bringing these technologies together.
2. Data first apps
With data and signals coming from every customer interaction and touchpoint, we need our business applications to represent the full 360-degree view of the customer, in order to create the personalised, individualised customer-centric experiences our customers have come to expect. Microsoft now has a customer data platform, Customer Insights, which gives you a low code experience for unifying your customer data. In 2022, we will see this used not only for B2C scenarios, but also for unifying B2B customer data, and unifying consent data across all platforms. Unified customer data at the heart of business applications will become increasingly important, enabling highly targeted segmenting and predictions, which are then used seamlessly in marketing and sales systems.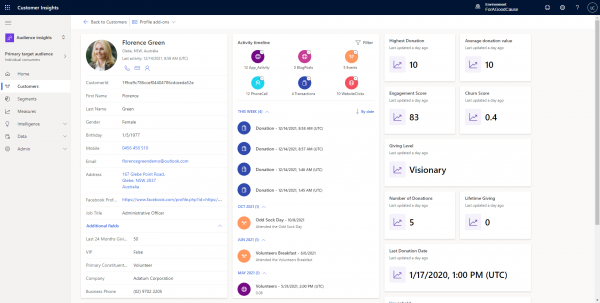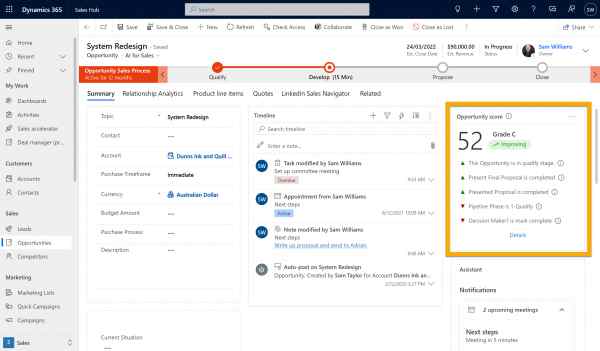 .
3. AI everywhere

Once you have your data in the one place, you can start to make the most of AI to predict customer spend, risk of churn, or next best offer suggestions. We are already working with AI built natively into Dynamics 365, with predictive opportunity scoring, relationship health, forecasting, and sales sequencing, in a way that enables users to benefit from these predictions and insights out of the box. This trend is set to continue, with more of these features now included in the standard Dynamics 365 Sales Enterprise license, and the expected development of more AI-infused experiences that help sellers be more proactive and productive, without the need for organisations to develop in-house knowledge and expertise to build AI or machine learning models themselves.
.
4. Customer journey orchestration
Customer Journey Orchestration is all about treating the customer as an individual, with highly personalised communications and actions, rather than grouping them into segments of similar customers. With the amount of data you are collecting about your customers, you can now personalise communication at scale, and you can trigger actions based on real time events, such as checking in to an event, or landing on a particular page on your website, reaching customers at the moments they are interacting with you, via their preferred communication channel. New capabilities coming in this space in 2022 will include the ability to use Power Automate to trigger actions across over 500 connectors, enabling full orchestration of both external and internal actions across the customer journey.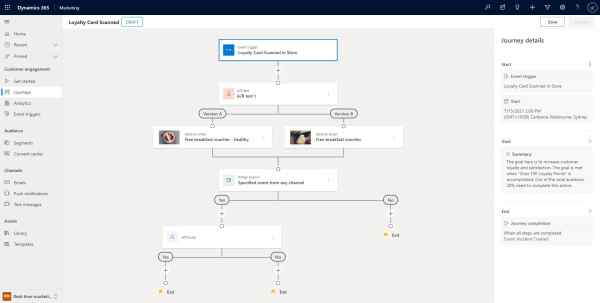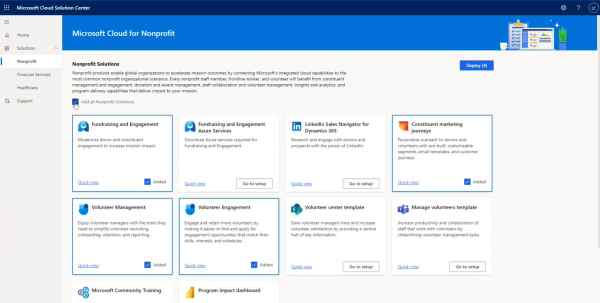 .
5. Industry clouds

Microsoft have recently introduced a set of ready-made solutions for Nonprofit, Financial Services, Healthcare, Retail, and Manufacturing, based on industry-standard data models and common industry scenarios, making it faster than ever to get started with a highly sophisticated system. These solutions bring together the stack of Microsoft cloud technologies – Microsoft 365, Power Platform, Dynamics 365, Azure, and LinkedIn – providing collaboration, productivity, low code application development, customer relationship management, and limitless data and analytics capabilities, all on one platform. In 2022 we expect to see huge uptake of these industry components and solutions, with the trend towards organisations wanting to leverage best practice solutions and processes "out of the box", together with low-code configuration, rather than individually customised systems.
Business applications are now truly part of the full technology stack in your organisation, rather than standalone systems for sales or marketing. This year we will be helping organisations take advantage of these new capabilities, to realise the full value of natively integrated systems of record, communication, and intelligence.
If you'd like to discuss how to get started with this digital transformation in your organisation, or learn more about the Microsoft business applications roadmap, please get in touch with us at www.barhead.com/contact.
Lisa Crosbie is a Microsoft Business Applications MVP (Most Valuable Professional) and our Technology Evangelist for Dynamics 365 and the Power Platform. She leads our program of training and events which has helped over 5,000 people get started with Power Platform, and runs demos, hackathons, and workshops at Barhead Solutions to help customers understand how to get the most out of Microsoft Business Applications. She is a podcaster, YouTuber, blogger and regular presenter at Microsoft and community events.