Managed Services
Technical support services designed to address a wide range of needs
Choose your organisation's most suitable support options for Power Platform, Dynamics 365 and other Microsoft technologies. Expand and sustain your digital investments today.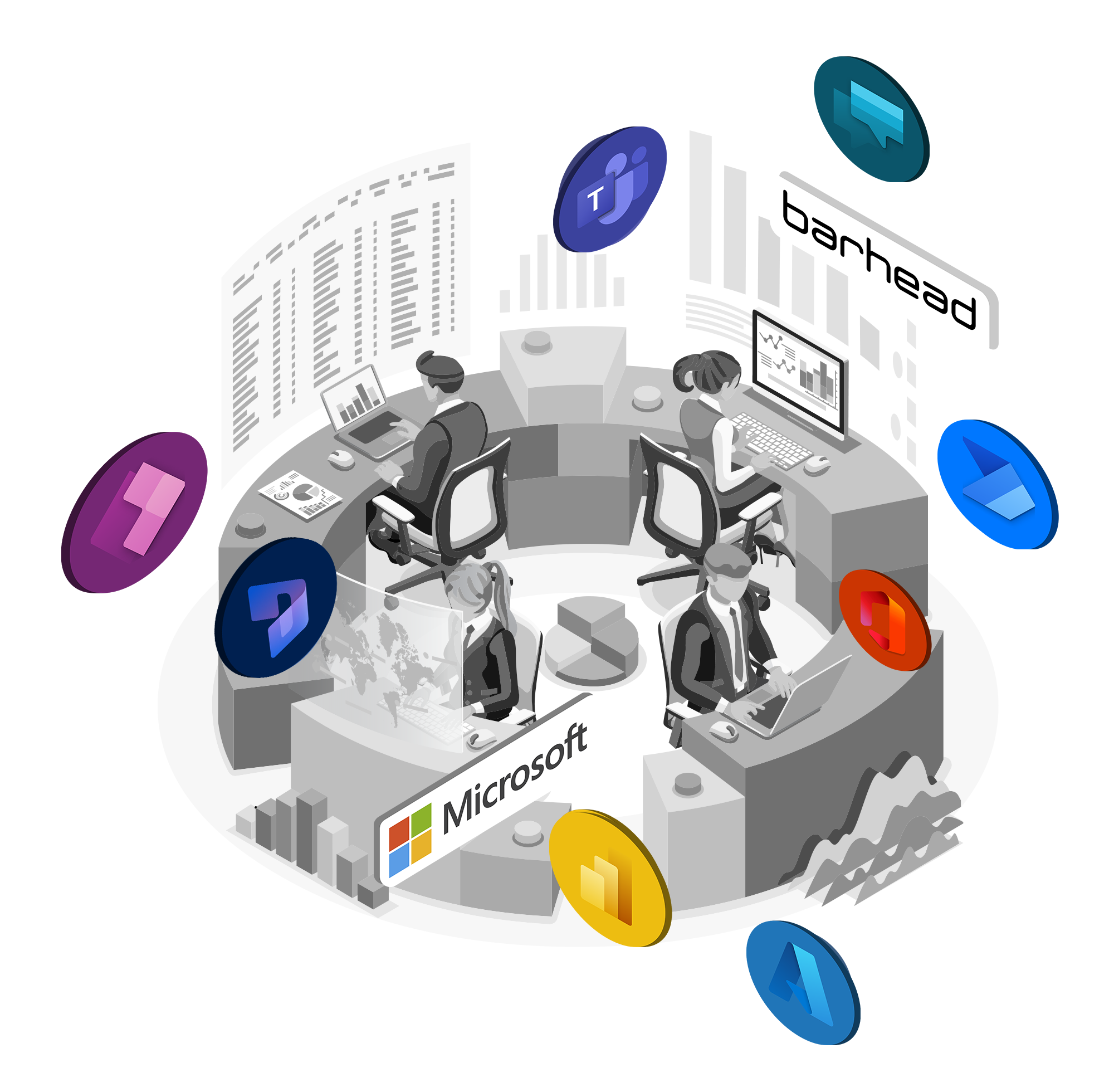 Why Barhead's Managed Services?
Barhead's Managed Services help develop and maintain Microsoft solutions deployed in organisations. Barhead offers flexible agreements which are dependent on customers' requirements and business needs. A dedicated set of Barhead consultants will be assigned to work within agreed SLAs.
Managed Services Support Options
Quick Start Options
Option 1 (Premium)
Option 2 (Standard)
Option 3 (Lite Support)
Indicative Price Point
AU $20,000/Month
($240,000 annual)
AU $10,000/Month
($120,000 annual)
AU $5,000/Month
($60,000 annual)
Minimum Terms
1 year
1 year
1 year
Support Coverage Hours
40 hrs per week
40 hrs per week
40 hrs per week
Application Support Hours Allocation
220 hrs
100 hrs
45 hrs
Service Level Agreement

Priority
1
2
3
4
Response Time
1 business hour
2 business hours
1 business day
2 business days

Priority
1
2
3
4
Response Time
1 business hour
2 business hours
1 business day
2 business days

Priority
1
2
3
4
Response Time
1 business hour
2 business hours
1 business day
2 business days
| | | | |
| --- | --- | --- | --- |
| Email Support | ✓ | ✓ | ✓ |
| Portal Support | ✓ | ✓ | ✓ |
| Phone Support | ✓ | ✓ | ✓ |
| | | | |
| --- | --- | --- | --- |
| Breakfix / Service Incident Resolution only | ✓ | ✓ | ✓ |
| Minor Changes / Config / Setups | ✓ | ✓ | ✓ |
| General Inquiries | ✓ | ✓ | ✓ |
| System Consultation | ✓ | ✓ | ✓ |
| Reporting Requirement Services | ✓ | ✓ | ✓ |
| Dynamics 365 and Power Platform Major Release High Level Impact Analysis | ✓ | ✓ | ✓ |
| | | | |
| --- | --- | --- | --- |
| Indicative Team Availability | Dedicated Support Team | Shared Support Team | Shared Support Team |
| Indicative Resource Availability | Offshore Application Consultant | Offshore Application Consultant | Offshore Application Consultant |
Status Review
Weekly
Monthly
Monthly
Application Enhancements
5 days of total work effort
(Build, Testing and Deployment)
5 days of total work effort
(Build, Testing and Deployment)
3 days of total work effort
(Build, Testing and Deployment)
Supported Technology Stack
Microsoft Dynamics 365
Power Platform
Power BI
Microsoft Dynamics 365
Power Platform
Power BI
Microsoft Dynamics 365
Power Platform
Power BI
Other Available On-Request Services:
| | | | |
| --- | --- | --- | --- |
| Customer Success Manager | Onshore only (Price available upon request) | Onshore only (Price available upon request) | Onshore only (Price available upon request) |
| Technical Advisory | Onshore/Offshore (Price available upon request) | Onshore/Offshore (Price available upon request) | Onshore/Offshore (Price available upon request) |
| Analysis and Design | Onshore/Offshore (Price available upon request) | Onshore/Offshore (Price available upon request) | Onshore/Offshore (Price available upon request) |
| Training | Onshore/Offshore (Price available upon request) | Onshore/Offshore (Price available upon request) | Onshore/Offshore (Price available upon request) |