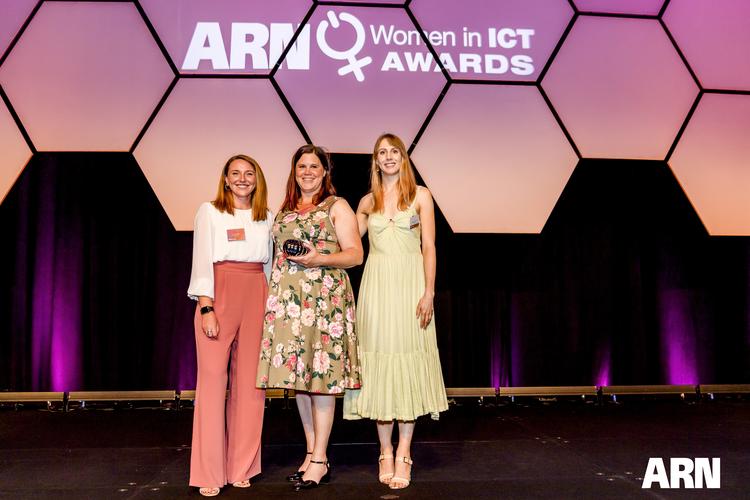 Technology Evangelist Lisa Crosbie from Barhead Solutions won two back-to-back awards at the recent 2021 Australian Reseller News (ARN) Innovation Awards. The Microsoft MVP—who also happened to be the only woman in the Innovation Awards' Technology category—won the Personal Innovation Award for Technical Excellence and the Women in ICT Technical Award (WIICTA) Partner – Multinational category. 
The WIICTA Technical Award recognises women who provide business value through specialised skills and competence while the ARN Personal Innovation – Technical Excellence Award is given to professionals who have demonstrated deep domain knowledge in relation to technology products and solutions. In WIICTA, Crosbie was joined by Barhead colleagues and fellow nominees Amanda Stenson and Jennifer Maritz, who were nominated in the Innovation and Achievement categories respectively.
"I am so fortunate to get to work with so many incredible people who encourage and inspire me on this journey, at Barhead, Microsoft and in our community."

– Lisa Crosbie,  Barhead Solutions Technology Evangelist and Microsoft MVP
Barhead itself was a finalist for the Thinking Differently Award in the ARN Innovation Awards. Capping off a string of nominations for the company were Head of Architecture Mike Medves and Alvin Paronda managing Marketing, who were both named finalists in this year's competition. Medves was nominated for the Channel (Sales) Excellence while Paronda was nominated for the Marketing Excellence Award.  
The back-to-back awards mark a significant milestone in Crosbie's five-year career in the tech industry. She started her career in publishing, but in 2016, she decided to take a massive leap and work for a small and medium-sized business enterprise Dynamics 365 partner. A year later, she joined Barhead as a Functional Consultant and has since worked her way up to becoming a Microsoft MVP and heading Barhead's Evangelism.
In just five years, Crosbie distinguished herself as one of only eight women amongst the 26 Microsoft MVPs in Business Applications (Find an MVP, December 2021). She also has proven herself to be one of Barhead's most vital tech experts. In addition to her duties as a Technology Evangelist, she works closely with the presales and marketing teams to educate customers on the newest Microsoft solutions.
The Women in ICT Awards put a spotlight on the confidence gap for women in the tech sector. 'The confidence gap for women in tech is real,' said Crosbie. 'Whenever you have the chance to lift the confidence of your colleagues or employees, please do it.' More needs to be done to address this confidence gap, but there were encouraging signs at the recent ARN Women in Tech Awards. Out of 340 nominations from more than 120 organisations, a record-breaking 205 finalists made it to the shortlist.