After winning the Social Impact Award in 2020, Barhead Solutions lands as a finalist in two global categories for this year's Microsoft Partner of the Year Awards. The Australian company earns recognitions under the Power Apps and Power Automate Award and the Community Response Award for making waves alongside top Microsoft partners and offering top-notch services using Power Platform. This 2021, more than 4,400 entries from 100 countries worldwide vied for a nomination, making the recognition by Microsoft even more special.
'I am honoured to announce the winners and finalists of the 2021 Microsoft Partner of the Year Awards,' said Rodney Clark, corporate vice president, Global Partner Solutions, Channel Sales and Channel Chief, Microsoft. 'These remarkable partners have displayed a deep commitment to building world-class solutions for customers—from cloud-to-edge—and represent some of the best and brightest our ecosystem has to offer.'
Ken Struthers, CEO and co-founder, Barhead Solutions, said, 'Barhead is exceptionally proud to be recognised by Microsoft in two global categories as we provide solutions to industries and communities through our expertise in Power Platform. As the world shows resilience this year, Barhead will continue to accelerate our customers' businesses by bringing Microsoft solutions to life.'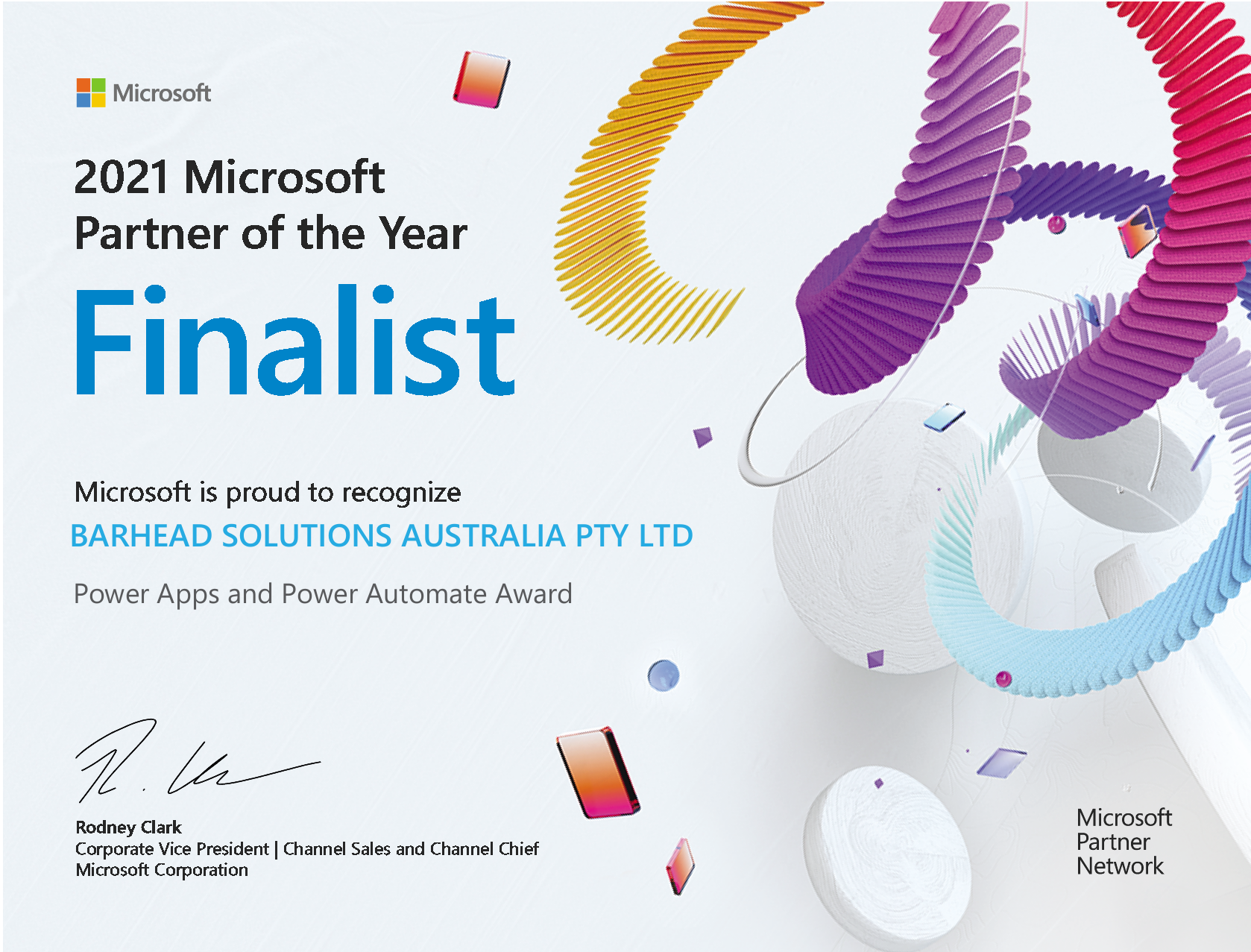 Power Apps and Power Automate
Barhead stands out as a Microsoft partner in transforming how private organisations work using Microsoft Power Apps and Power Automate. Right now, Barhead offers assets and productivity apps pre-built on Power Platform so companies can readily access them. With 25 ready-to-go services in the market, clients of Barhead Solutions can solve business problems even before they can come up.
'We realised that businesses must be able to respond as quickly as they can to the growing digital world, whether they want to solve a problem or drive creativity and innovation. Barhead works closely with businesses, offering Microsoft solutions that empower everyone to adapt and innovate,' said Mike Medves, Head of Power Platform, Barhead Solutions.
Aside from deploying apps, Barhead strengthens its workshops and training sessions, conducting more than 70 free enablement workshops for various Power Platform users. Gathering 1,800 people from 1,400 companies, Barhead helps enthusiasts and professionals maximise the capabilities of Power Platform.
Another milestone for Barhead is delivering solutions to various industries in Australia and around the world. In 2020, our specialised consultants made it possible for Tassal, Australia's largest salmon and prawn grower and seafood processor, to roll out 10 Power Apps integrated with Tassal's Smart Farm and Dynamics 365 Field Service. With continued service to other companies, Barhead stays true to its mission of unlocking business growth through Dynamics 365 and Power Platform.
Community Response
Clearspace, a low-code, repeatable, and scalable app built on Microsoft's Power Platform, earns Barhead a badge under Community Response by allowing the safe return of employees to work during COVID-19. Clearspace implements safety protocols and social distancing through IoT sensors and artificial intelligence. The app, which can list locations and monitor seating capacity, offers users a reservation and check-in function with a 'my bookings' feature.
'Clearspace has been designed to offer a simple-to-use solution for employees returning to the office–ensuring peace of mind that they have a safe, clean environment to work in. At the same time, it provides at-a-glance metrics to the enterprise about utilisation of facilities, bringing confidence that all the current rules and regulations are being adhered to, and peace of mind that if there is the need for contact tracing all the data is there instantly,' said Doug Maloney, Head of Product and IP, Barhead Solutions.
Through Clearspace, Barhead enables the Bureau of Meteorology (BoM) and the National Roads and Motorists' Association (NRMA) to manage remote working and return-to-work conditions while keeping the health of their employees a priority. As a result, the two institutions can continue their essential services for Sydney residents—predicting weather conditions and environmental changes for the BoM and alerting motorists to road hazards and traffic for the NRMA.