Amanda Fajerman recently attended Altacon on 4 June 2021. You can watch or read the transcript of her top 10 takeaways below:
I'm still on a high from ALTACON and spent a cold weekend in lockdown catching up on the content that I missed. For those of you that missed it, you can head to ALTACON and get an on-demand pass for $55, I've taken the central theme of Collaboration and highlighted 10 key takeaways.
First off, a huge congratulations and thank you to the ALTACON committee organizing a brilliant, seamless and kick-ass virtual conference.
1. Collaboration in Diversity (0:31)
I think probably the best place to start is with Jodie Baker and the research commissioned from Alpha Creates into the female representation in the legal tech ecosystem. This 2% of all venture capital dollars have been invested in female only founded start-ups is probably the most stark statistic of all. So the call to action of any investors is to understand that women approach funding in a different way to men, and research, reiterated by Lisa Dowie, is the potential bias in the way men are often asked potential questions during pitches, e.g. highlighting the upsides and potential gains whereas women were asked preventative questions such as highlighting potential losses and how they are going to mitigate the risk. So there is a huge amount of collaboration gains through diversity.
2. Collaboration through Citizen Developers (1:14)
This one is perhaps possibly my favourite because of breadth of application and impact that a simple no-code tool like Office365 can have. Scheilly-Jayne from Chevron called out the benefits of citizen development. In Scheilly's case it was spending a rainy afternoon in Perth creating an automated NDA app, but then it quickly spread among her teams to other user cases.
She identified 3 things – lawyers can be citizen developers; it is a fantastic component of an overall digital transformation strategy because it creates tech savvy lawyers; and that with something like Office365, you have the ability to plug in and link data sources and other apps all together including citizen developed apps.
"Citizen development is a force multiplier for digital innovation. Because it puts the technology in the hands of legal experts who are best placed to identify opportunities to boost productivity, and to deliver enhanced legal services to their organization".
3. Collaboration through Communication (2:02)
Katrina Gowens described her 2.5 year journey to date going from building her first NDA App in Office365 to the next 3 years of a new contract lifecycle system and an RFP that spanned 6 months and 10 providers by saying she couldn't have gone on this journey if she didn't learn how to work with vendors and internal stakeholders as Legal can't do this alone.
Colin Levy also shared insights on the need to convey information quickly and efficiently, an increased need to present information visually and based on data, and an importance on presenting information in a concise, coherent fashion that makes sense in a logical order.
And of course, Collin stressed that communication skills are learned and his takeaway was that you need to "proactively go after learning these skills rather than waiting for something to come to you".
4. Collaboration through Empathy and Authenticity (3:09)
This came up in a few contexts. In the context of new law, Sarah d'Oliveyra discussed the importance of wrapping your arms around the human element by prioritising and providing a space for creativity, embracing diversity in experience and outlook and making connections and advancements through collaboration.
Stuart Clout described it in the context of the "secret sauce for founders" as vertical empathy or sector credibility that "if you can stay connected to the problem that you're solving in a very authentic way, your customers will be authentically connected to you."
5. Collaboration through Strategic Planning (3:58)
Susan Hackett referred to it as the Legal GPS, knowing where you are and where you want to go with your navigation tool set on figuring out the 5 R's: "what is the right work that they should be doing, done the right way, by the right people with the right resources to drive the right result".
Kirk Simmons from Canva referred to this in the context of building a legal team from scratch as short term and long term planning saying "focus on the next decade, not the next month".
At a more granular level, Leigh Cooper and Michelle Coman from CEFC referred to this in the context of a retrospective on a technology implementation in terms of ensuring that enough time is spent articulating detailed requirements during the planning phase of a project.
6. Collaboration through Design (4:58)
Josh Kubicki spoke about design in terms of ensuring that enough time is spent on picking the right problem to solve and described design as a human experience. It involved changing existing situations into preferred ones by combining creativity with rigor in order to derive highly valid, feasible and desirable outcomes. He spoke about 3 elements of design being the functional, emotional and social elements or journey of the people who are interacting with the problem, the challenge, and ultimately the solution.
Verity White made the point that what makes transformation projects successful are often design led practices like collaboration. Collaboration is one of those keys to digitization and digital transformation success.
7. Collaboration through Multidisciplinary Teams (5:54)
We also had Sarah El-Atm discuss the benefits of collaborating in multidisciplinary teams to solve client problems. She explained how a multidisciplinary approach helps you view problems not just as a legal problem, but as a holistic business challenge – enabling a shift in conversation and drive a level of value with clients that might not have been previously possible.
Sarah d'Oliveyra said that when you have diversity and creativity, collaboration is the glue that brings multidisciplinary working together.
8. Collaboration through Experimentation (6:35)
Anna Golovsky discussed this in the context of proving an ROI of her technology roadmap, starting with prioritising some quick wins to build credibility. Experimentation may come in the form of a Pilot, which in the case of Anna enabled her to collect the data that she needed in order to prove her ROI, or in the case of Katrina Gowens enabled her to plant a seed in the procurement team about the benefits or value of legal automation.
9. Collaboration through Standardisation (7:08)
Here Josh Maley described the benefits of standardisation and interoperability in the legal industry. Anna also discussed this as a problem in terms of not having standardisation in her panel firms' e-billing processes. This is one where I can see a huge potential for opportunity; the IT industry has Github, Microsoft has a Common Data Model for marketing, F&O – imagine the potential for a common data set or for common legal schema, a collaboration between organisations in doing deals faster, for making migration of data between systems seamless and for creating interoperability between legal systems and other business applications. I want to shout out the OneNDA movement here, and if anyone wants to discuss a legal schema for legal data, please reach out.
10. Collaboration through Gamification (8:05)
Lastly, I'd like to finish on Dr. Kerstin Oberprieler, who discussed possibly the sexiest of all dimensions of collaboration – being how gamification assists with collaboration. Here she explained how Gamification taps deeply into human psychology. Being based on motivational and behavioural science, given we know that people respond more to reward rather than the mandate and how impactful that shift can be, it improves happiness and well being, increases engagement and behaviour change.
Just want to end with the African proverb quoted by Quin Rjinders, "If you want to go fast, go alone. But if you want to go Far you need to go together".
I think that Altacon has proved that we are all on a journey to go the distance – and that Altacon achieved its goal of creating collaboration between firms, in house teams and technology companies to deliver real solutions to people in need of legal advice or legal information.
So that's my recap! I'd love to hear from anyone if you'd like to connect or message me on LinkedIn.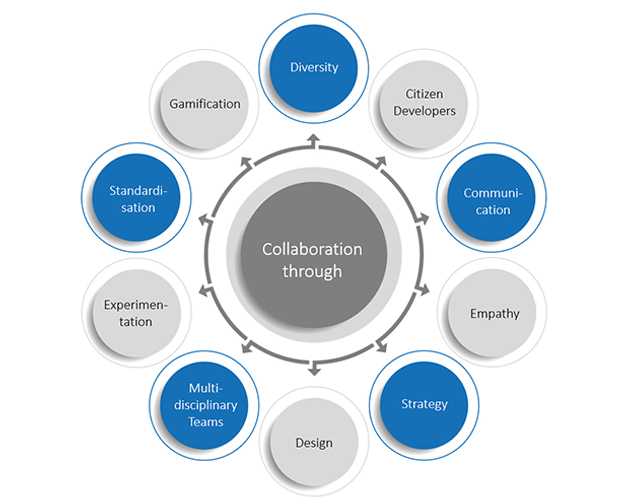 What's next?
Barhead will shortly be launching Consensus, a new legal and contracting solution, for contract lifecycle and matter management based on the Microsoft platform. This will be headed by our Products & IP Business Unit Head Doug Maloney, Engagement Manager Amanda Fajerman and Product Manager Luke Kelly. You can check the initial updates, here. Subscribe to our Consensus mailing list if you're interested to learn more!.
Follow us on LinkedIn for the latest Microsoft news.
Amanda is Barhead's Engagement Manager for IP & Products business unit. She is a legal technology professional who thrives on the opportunity to create technology solutions for legal teams. Amanda brings 15 years of experience in legal and consulting roles and has a focus in knowledge management, change management, transformation, project management, automation and a variety of no-code legal technology platforms.