We've previously articulated why a CLM based on Microsoft makes good business sense. There is also good reason why Microsoft is the most obvious choice for legal teams who are looking for a matter management system.
Legal teams, already snowed under with low-value, low-risk administrative and manual tasks, are often hit with a double whammy – either they are told to use existing IT systems, but their support needs are not prioritised by IT, or they are met with raised eyebrows when they request budget for legal-specific technology. As a result, they are caught between adopting not-fit-for-purpose organisation-wide technology, and trying to band-aid solutions in a piecemeal fashion using existing technology – often causing greater inefficiencies as a result.  A Microsoft based matter management system can help address some of these common issues.
Benefits of matter management systems
The benefits and justification for legal matter management systems are now well accepted by most businesses. Matter management systems include the following components: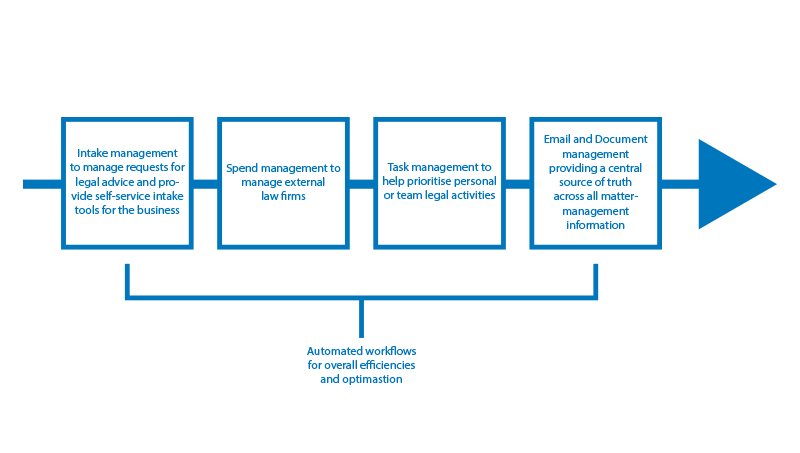 A matter management system also enables organisations to capture data about what work the legal team is doing.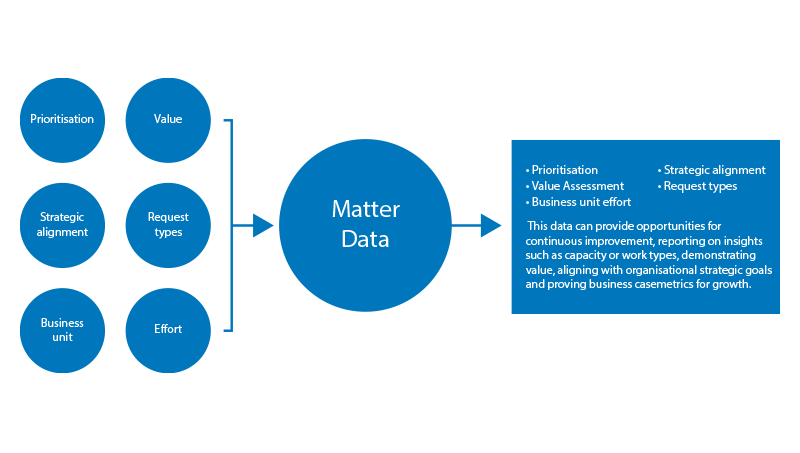 Matter Data such as prioritisation, value assessment, strategic alignment, request types, and business unit effort involved can provide opportunities for continuous improvement, reporting on insights such as capacity or work types, demonstrating value, aligning with organisational strategic goals and proving business case metrics for growth.
This ultimately boils down to two metrics – saving time and money. One of the main benefits of implementing a matter management system is time savings through self-service portals and visibility obtained through users having access to a Portal for them to view matter status. A self-service NDA workflow can be up to 7 times faster and 15 times more efficient than a manual process, with 100% compliance and up to 400% ROI. Even if a company spends 40 hours a month on creating, reviewing and manually signing NDAs, they can realise an immediate $50,000 saving. Speedier turn-around times on legal matters also means that contracts can be negotiated faster, which means shorter deal cycles and faster revenue for the business.
Other qualitative benefits of a matter management system include: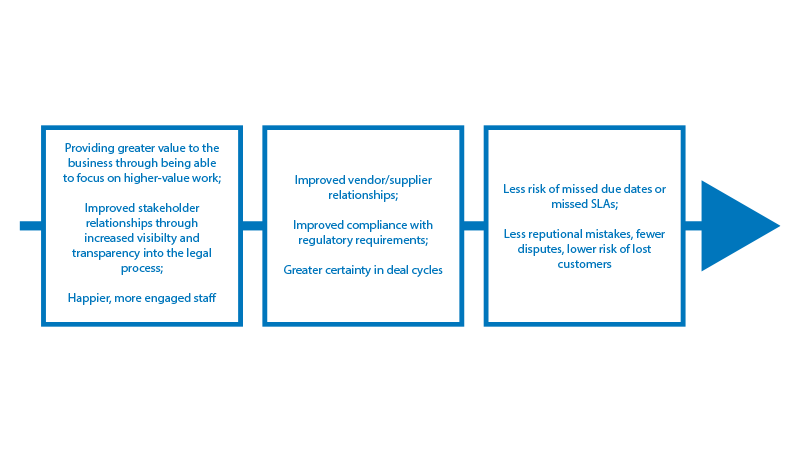 For a team already using Microsoft365 and looking to invest in a matter management system, it arguably makes the most business sense to choose one based on Microsoft. Barhead Solutions developed Consensus, an end-to-end contract and matter management platform built on the Microsoft Cloud to address this need. In addition to the benefits listed above, here are the benefits only a Microsoft-based matter management system, like Consensus, can offer:
1. Integrated solutions with the applications lawyers use daily 
Legal teams need a way to collate all matter related information – such as email correspondence, advices, documents and contracts in one central place. However users also want integrated solutions that doesn't require them to switch between applications to do their work. Considering the ubiquitous nature of Word, Teams and Outlook as well as the fact that Microsoft is used by 97% of Fortune 500 companies, it makes practical – and financial – sense to choose a Microsoft-based matter management system.
While third party plugins can provide an 'integrated' experience, nothing rivals a solution that is essentially 'listening' to what is happening behind the scenes in SharePoint, Teams and Outlook and mirroring those applications. It's what we call bringing Consensus to our users in the applications they use each and every day while also surfacing SharePoint and Outlook from directly within the application. A Microsoft-based Matter Management system that seamlessly integrates with Microsoft 365 means that separate email management and document management systems are not required and application switching to perform basic tasks is a thing of the past.
"Considering we're already working within the Microsoft stack, it makes perfect sense to work with a Microsoft Gold Partner like Barhead. Consensus' email integration and ability to dual sync from the app to SharePoint is going to be incredibly helpful for client file management."
– Vasili Maroulis, Managing Principal Solicitor, Marrickville Legal Centre
2. An aggregated legal, commercial and risk framework
From a governance and risk point of view, providing lawyers with an aggregated source of data in one platform that allows them to move seamlessly between legal matters, related contracts and the underlying 'other party' details (whether Supplier, Customer, Partner or Client) ensures effective legal and commercial management throughout the matter lifecycle. For example, a lawyer reviewing a Supplier's past performance can add value to a negotiation process by turning hindsight into foresight. Customer disputes can be used to inform strategy on future issues as they arise. Legal can work seamlessly with the business to filter the relevant information and provide legal advice in context. Ultimately, this means that lawyers can have data aggregated in one platform across both contracts and legal matters to ensure effective legal and commercial management throughout the matter lifecycle.
.
3. Powerful searching across documents and data 
There is nothing more frustrating that not being able to find information because of irrelevant search results. We estimate that on average, a team member spends at least 30 mins a day searching for information, redoing advice or rewriting content. This equates to 120 hours/year, and at an average cost/hour of $100 gives $12,000/year. For a team of 5, that's $60,000 of wasted money.
Legal teams can save time if they are able to surface business-critical knowledge at speed through powerful search and key filters that allow them to refine results. Integrated SharePoint and Consensus search mean that results from both document content through SharePoint and metadata on both Contracts and Matters can be surfaced directly from one central place.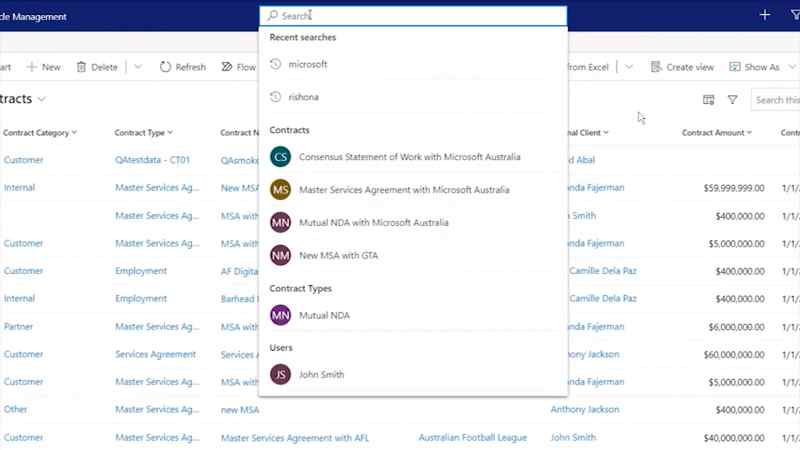 .
4. Risk and Compliance
Risk and compliance is often intimately tied within the remit of legal. Risk – whether contract risk or regulatory – can be tracked, measured and reported and supplemented by the legal team to avoid blind spots and uncertainties in a contract suite. While any Matter Management system can provide the framework for ESG reporting, Modern Slavery, Corporate Governance etc, a Microsoft based one can provide deep integration with Power BI for interactive dashboards and reporting, Supplier Portals for restricted third-party access, risk based approval emails which can be actioned straight from Outlook or Teams, and a seamless way to slice and dice data based on risk.
5. Data sovereignty
Do not underestimate the value that having a Microsoft based Matter Management system installed directly within an organisation's Microsoft environment brings. The organisation owns the data and controls the data and it is hosted wherever the organisation's Microsoft tenant lives.  Not only does this reduce the risk of security issues, it also means that users have an integrated single-sign on experience directly with their Active Directory for all user details.
6. Business Enablement through Familiarity and scalability
A familiar Microsoft based user interface reduces training costs, onboarding of new employees, and change management needs. With an experience that facilitates end-user configuration, universal and scalable workflows and processes enable IT teams to scale the system as the organisation grows. Processes – which are not bespoke to legal or procurement – can be replicated and utilised by other functions in businesses engaged in similar workflows. This results in a wholistic and universal system that reduces siloes across the business and facilitates collaboration – all within the safeguards of Microsoft based user-groups and permissions.
Consensus
The benefits of a Microsoft-based matter management system for lawyers go beyond quantitative benefits ­– they extend into qualitative benefits. By simplifying legal workflows, matter management systems, like Consensus, help lawyers be more efficient, effective – and happier in their roles.
If you want to learn more, you can reach out to us via this page.
Amanda is Barhead's Engagement Manager for Legal Technology Solutions. She is a Geeky Guru for CLI's Legalpreneurs Lab and Committee member Woman of Australian Legal Technology (WALTA). Amanda thrives on the opportunity to create technology solutions for legal teams. She brings 15 years of experience in legal and consulting roles and has a focus in knowledge management, change management, transformation, legal operations and innovation, automation and a variety of no-code legal technology platforms.