Connected platform
One of the greatest strengths of the Microsoft Business Applications platform is how seamlessly all the pieces work together as a connected toolset. Where you have other line of business applications and systems, the Power Platform includes over 270 connectors (and the ability to create your own custom connectors), provided to help you with your digital transformation.
One of the most asked-for connectors has been announced with this release – SAP ERP Connector for Power Apps and Power Automate, enabling us to develop modern apps and automations over data in SAP.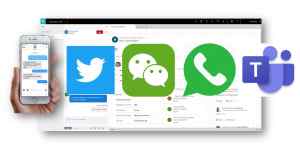 Dynamics 365 Customer Service includes omni-channel service capabilities, and with this release we will have some of the most popular chat service connections made available, enabling agents to chat with customers on their channel of choice. Wave 1 release includes support for SMS through Twilio, Twitter direct message, WeChat, WhatsApp messaging through Twilio and Teams (for internal support scenarios).
Dynamics 365 Marketing will support Forms Pro for surveys in this release, bringing those parts of the platform together in a much awaited feature.
If you are working with asset management, the cross app capabilities between Dynamics 365 Field Service and Supply Chain Management in this release will be of huge value, with the entity models and asset management capabilities being aligned between the two apps.
User experience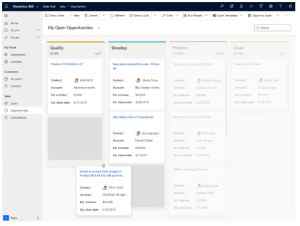 User experience is so important to the adoption and effective use of business applications, and with this release we are seeing further developments to both the mobile and web experiences.
We will now be able to run both canvas and model driven Power Apps via a single mobile app, and we are looking forward to an enhanced and more intuitive Dynamics 365 Sales mobile app, including surfacing the intelligent Dynamics 365 Assistant (Sales Insights) to sellers – providing them with the information they need in their hands right when and where they need it.
The Dynamics 365 Unified Interface is continuing to offer enhanced visual elements to make using these applications easier and more appealing. With this release wave, we will get calendar and kanban views, as well as enhanced activity management features.
Importantly – if you are a Dynamics 365 user and you have not yet switched to the new Unified Interface, you only have until 1 October 2020 to do so – check runone.powerappsportals.com to find out when your update is due to be applied.
Collaboration and productivity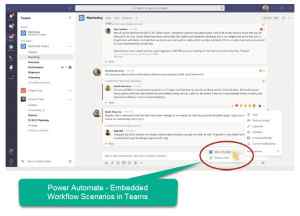 Almost every organisation I interact with now is using Microsoft Teams – an awesome tool for collaboration, bringing chat, meetings, calls, documents together in one place (so much better than email!). There is deep integration between the Power Platform and Microsoft Teams and more new capabilities being introduced here in the Wave 1 release.
We will soon have the capability to create Power Apps directly from within Microsoft Teams, and Power Automate is bringing new productivity enhancements to Microsoft Teams, with built in process assistance – automated notifications for things like new meeting invitations, files being modified – and you will be able to use these without even knowing how to use Power Automate.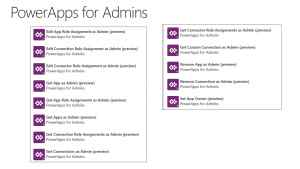 Governance and administration
Last (but certainly not least, because this is one of the most frequent conversations I have around the Power Platform) – we will have the admin connectors for Power Apps and Power Automate generally available with this release. Now you can build Power Apps and automations to help you manage your apps and automations!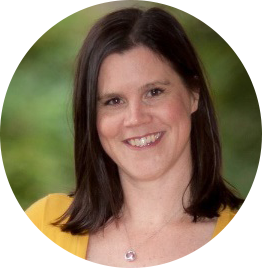 Lisa Crosbie
About the Speaker
Lisa Crosbie is a Microsoft Business Applications MVP and our Technology Evangelist for Dynamics 365 and the Power Platform. She has helped over 400 people get started with Power Apps through the App in a Day program, and is a regular presenter at Microsoft and community events. She runs demos, hackathons, workshops, training sessions, and events at Barhead Solutions to help customers learn about the emerging technologies in the Microsoft Business Applications platform, and understand how they can be used to solve business problems.