The acceptance of remote work also meant the boom for business communication platforms such as Microsoft Teams. While most of us are familiar with Team's cool features (some of my favorites are the together mode and the custom backgrounds) Teams has a lot more features up its sleeves with its apps.  
But before we start, how do we get those apps out of Microsoft Teams? It is quite intuitive, really, just click on the ellipses (…) and search for the app! You may optionally 'pin' apps as well so that you'll be able to find your favourites immediately upon opening Teams.  
There are a lot of Teams apps, but this article will be tackling three apps that help in Employee Administration and give the Employees a good Employee Experience (EX). 
One of the things I always get asked when consulting for the Leave and Absence module in Human Resources is "How will an employee be able to file a leave when they are sick?" In the not–so–distant past we would just send a text message to our supervisors. The supervisor will then email or message the Human Resources Administrator, then the Administrator would fill up the information in the HRIS.  
As HR systems become more mature (and also as part of EX) we will soon be able to file a leave in our gadgets via the Human Resources App of Microsoft Teams. This application which is currently in public preview in D365 HR Sandbox or Trial environments directly links to our data in the HR Leave and Absence module in Dynamics 365 Human Resources so there is no more need for any manual intervention.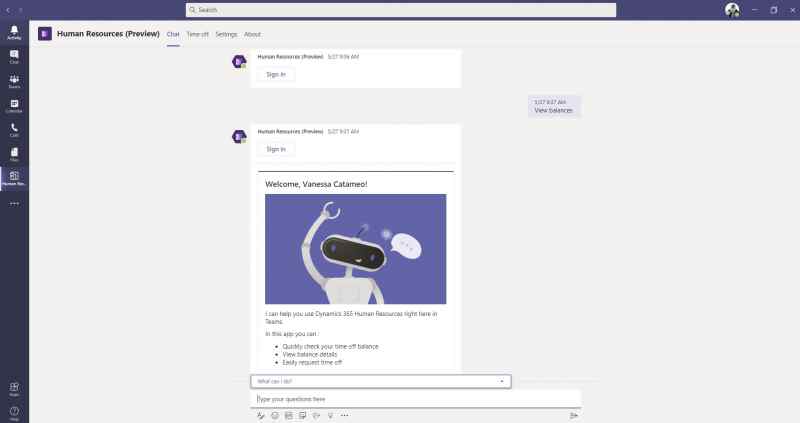 My favorite feature in the Human Resources Teams App is the use of this (cute) bot. The employee can chat with the bot to get their balance for each leave types and file a leave request. The chatbot uses Microsoft's Cognitive Service called Language Understanding Intelligent Service (LUIS). 
For the traditional ones that prefer to see their balances rather than talk to a bot, the HR App also has a Time off tab which lets employees check their leave balances, upcoming leave requests, and create new leave requests.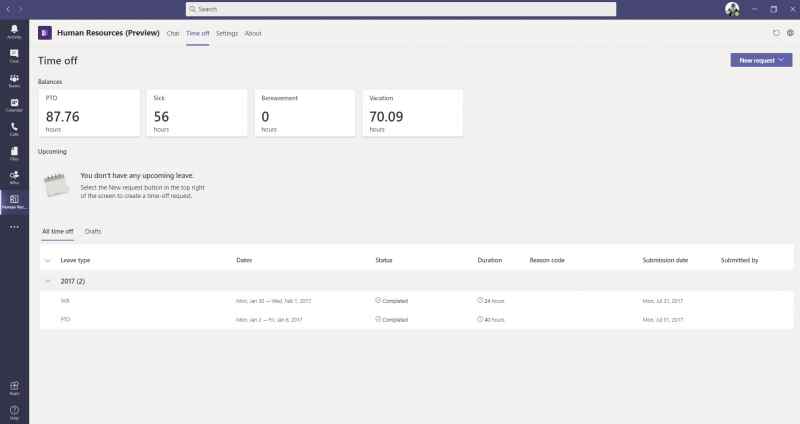 Managers will also benefit from the HR Application with a view of their team's leave calendar of approved and pending time-off. They will also be receiving notifications for leave requests for their approval. Without leaving Teams they can already approve or deny the leave request as well as put an optional message. And yes, all of these are integrated with Dynamics 365 Human Resources, so the updated leave balance, approved and denied leaves appears automatically in the HRIS.
Has anyone within the organisation ever messaged you on Teams, and you didn't know who they were? You have a vague idea of who they are and what they do, but you've never interacted with them face-to-face. Now you're left asking, who is this and what does he/she need from me?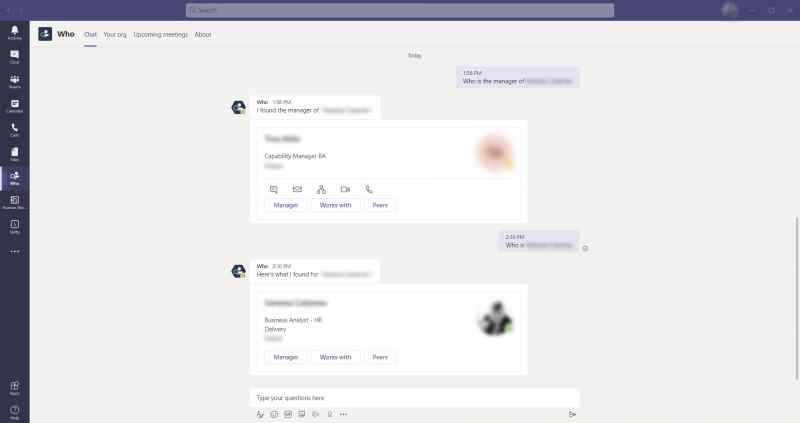 Well, the Who App has a handy bot to answer such queries. It can answer questions such as "Who is (person's name)," "Who is (person's name) manager?" and 'Who knows about (expert topic)?" Who App also has a nice view of the organization which is based on the Azure Active Directory.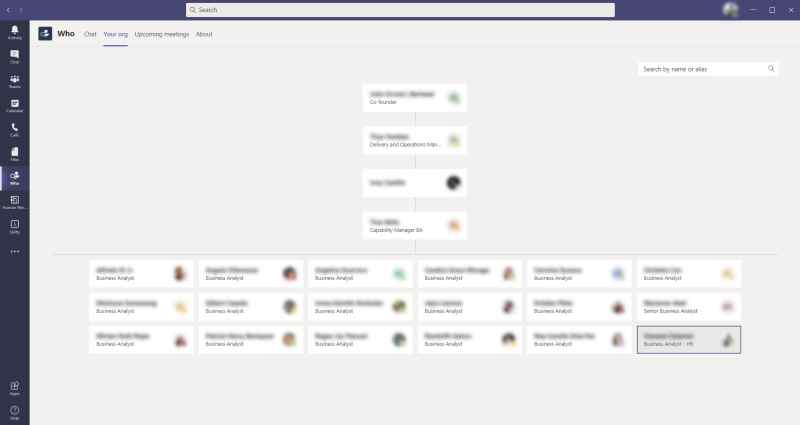 Did you know that owners of teams in Microsoft Teams can also create the shift of your members and export their Time Report? This is possible via the Shifts App.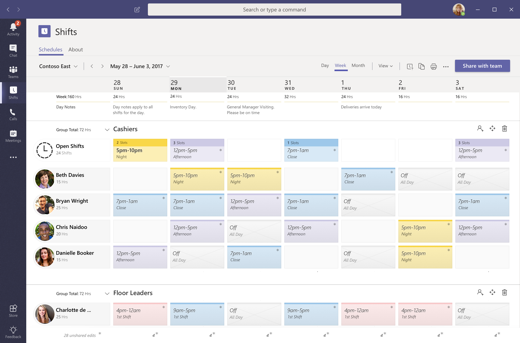 Once the schedule has been assigned to the Team members, they will also be able to request a Time Off and Swap or Offer their Shift to another Team member. Team members can also clock-in and clock-out using the Team's app. This in turn is converted into a readable Time Report in Excel format which can be downloaded by the Team owner and shared to the group.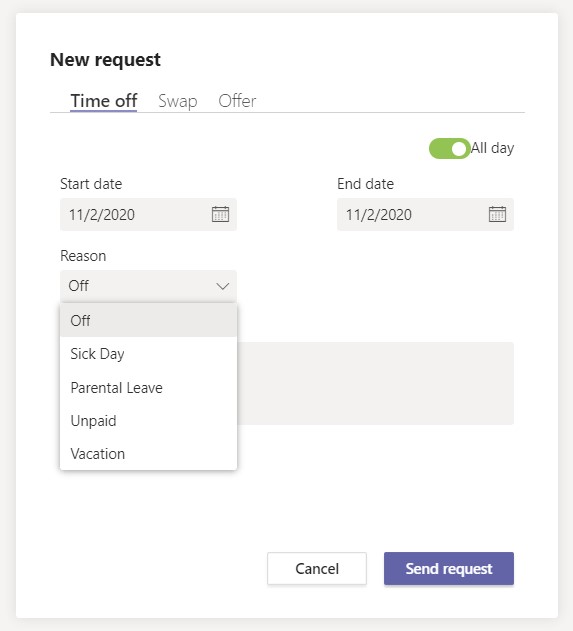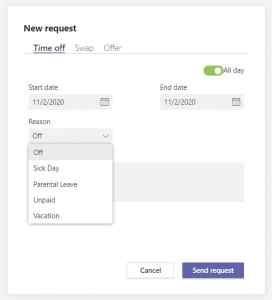 It's only a matter of time before more apps are built to help Human Resources Administrators. As organisations march on in the new normal, more solutions need to be created in order to adapt. In the meantime, enjoy exploring these three!
What's next?
If you want to learn more about the many things that you can do on Microsoft Teams, here's a quick tip on how to start building chatbots with Teams and Power Virtual Agents! To expand your knowledge in Microsoft technologies even further, you can head to our events calendar and join the free virtual webinars that we regularly hold. For more blogs, Microsoft news and event updates, you can follow us on LinkedIn.
Vanessa Catameo is an HR Subject Matter Expert with 16+ years of Functional & Technical experience in the Implementation and Support of Human Capital Management Systems.