Recently we updated our Dynamics365 For Marketing demo environment to include all the latest preview features for the 2019 Wave 2 Update.   Here's a quick look at one of the enhanced features – the revised segment builder.
Context
The segmentation functionality was one of my favourite features in Dynamics 365 For Marketing.  The ability to craft sophisticated audiences with filters that span CRM and interaction data, is a powerful feature of the application.  However it wasn't without faults.  The key challenges for marketing teams – in my view, being:
The need for a detailed understanding of the data model.  Marketers don't want to know the underlying ERD – which entities are related to which – and how to structure a query to get to the right answer.  I'm a bit of a geek – and a very curious one, so I'm happy to delve in and work out how to construct the segment – but many marketers aren't, or can't afford the time – they just need to get to the result, quickly.
The user interface.  I heard it described as 'ugly' in a recent YouTube Livecast (here), and it's hard to disagree
'Get Estimated Segment Size' – this functionality was pretty meaningless as the results were so far from accurate
Roll-on, Wave 2
Microsoft clearly have been listening to feedback and working hard on improving the segment designer.  There are new wizards to guide the segment build, a new-look UI and more accurate estimated counts – all to be released in Wave 2.
Let's take a quick canter through these new & enhanced features
Segmentation Hub

The first thing you'll notice when you create a new segment is this screen – Microsoft are labelling this the Segmentation Hub.  There are five main launchers here – three for dynamics segments with predefined starting points for demographic, firmographic and behavioural segments, and one each for the static and compound segment types:
Demographic – for segments built from contact data (e.g. name, location).  I'd use this as a starting point for segments based on contacts where I don't need to use interaction data (such as email opens, click, bounces)
Firmographic – similar to Demographic, but for Account Based Marketing.
Behavioural- for where your audience needs to include interactions such as email click, opens, bounces, marketing page or website visits (for tracked websites)
The Static segment launcher is just a shortcut to the static segment builder – which hasn't changed so I won't touch on that any more here.
The Compound segment launcher takes you to the revised experience for compound segments.  Compound segments are a great little feature of Dynamics 365 For Marketing – in essence letting you join two segments and allowing commonly used segments to be built (and tested) once, and then used many times.

The enhancements for Wave 2 for the Compound Segments builder are more of a refresh of the UI than new functionality.  Segments are added one at a time and the join (union, intercept, except/exclude) defined.
Added segments can be edited or removed with the pen or bin icons
As segments are added or removed, the visual grows.  As segments must be live before being available for compound segments, the results are available pretty-much immediately – no need for the segments to be evaluated and populated in the marketing services layer.
Demographic, Firmographic & Behavioural segment launchers
These three launchers represent the largest change in the ability to build complex dynamics segments.  Each launches a starting segment tailored for the relevant data that underpin the segment.  This is clearly aimed at reducing the data knowledge needed to build dynamics segments – and broadly, it works.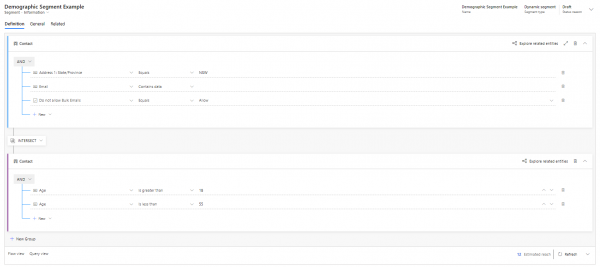 The Demographic Segment launcher guides you immediately to attributes on the contact entity (a(names, address, age, etc.).  It's possible still to access related entities – but that's beyond the scope of this post.
A couple of items to note here:
The UI is much cleaner.  The functionality is broadly the same, but it's a nicer place to be
The 'Estimated reach' count (in the bottom right corner) – – looks like it might now be accurate (and it's lightening fast).  I'll need to dive into this deeper – again, for another post
Segments all now start from contacts – and then you traverse to other entities (so no need any more for the Contact = *All rule)

The Firmographic Segment launcher similarly guides you straight to account-based criteria, and returns all contacts who meet the defined business rules
Again, note the cleaner UI and the 'Estimated reach' count which, on checking, was accurate (albeit on a very small sample).
Behavioural Segments are by nature more sophisticated.  'Give me contacts who attended event X or visited our website at least twice in the last 3 months' – that might be a convoluted and unlikely example, but it's representative of the types of data that behavioural segments need to access.

At first glance, the behavioural segment launcher does reduce the complexity of building interaction-based segments.  You are guided immediately to a designer that's restricted to items like 'email clicked' and event registration .  Also, as the segment starts from the contact and then traverses to other entities as needed, there is no need (or option) for the confusing 'Contacts = *All' rule from the current version – another tick.  But – and this needs further exploration with the engineering team at Microsoft, (i) it seems that once you've picked a type of interaction (e.g. 'email clicked') it's not possible to join to other entities (e.g. events) – so while the experience is simpler, so is the functionality.  And (ii) there is no 'Estimated reach' count available on this designer (my guess here is that this is because these data are not on the CDS but need to be calculated on the marketing services layer – but that's too technical for this post)
Summary
In summary, I'm a fan of what Microsoft are doing with the new segment designer.  The UI is a much nicer place to be, the guided launchers will enable less data-savvy teams to use the application with confidence, and the 'Estimated reach' seems to be accurate where before it wasn't.  Overall, it makes the application a more marketer-friendly tool.  There are a few things I'll be taking up with Microsoft – and as were still at several weeks from GA so there's time still for more changes, but overall, another good step forward for this fast-evolving application.
Dynamics 365 For Marketing
Dynamics 365 For Marketing is a richly-featured marketing automation application from Microsoft, natively integrated with Dynamics 365 Customer Engagement.  Introduced in May 2019, it has already a strong worldwide user base and gains all the benefits of being an embedded part of the Microsoft Power Platform.
Core features & functionality include:
Digital marketing.  Journeys, segmentation, automation, forms, landing pages, website tracking – all available and easily configurable without reliance on IT or agencies
Advanced segmentation & marketing lists.  Create sophisticated segments and audiences for your campaign, seamlessly combining profile and interaction attributes
Fully-featured events management platform.  Run a conference, or a party, with full tracking of attendees
Surveys.  Embedded survey functionality, with responses written directly back you the CRM means no need for a separate survey tool.
Turn-key application.  Installed onto your existing D365 CE application(s), Dynamics 365 For Marketing works, out-of-the-box
Highly configurable & extensible.  Extend and enhance with Flow, PowerBI and PowerApps.  Add connectors and integrations from the Microsoft AppSource.  The options and opportunities are endless
Barhead Solutions Marketing Practice
Barhead a specialised consulting firm focused on delivering business solutions, leveraging Microsoft's  Technology Stack We believe that it is a combination of people, technology, and business drivers that underpin the most successful implementations.
The Marketing Solutions team at Barhead are a dedicated and specialised group, focussing on helping our clients deliver value from marketing technology.  Our services span:
Select & buy.  We can help you find the most appropriate solution to your marketing requirements, across the Microsoft , Adobe and ISV portfolios;
Implement, configure, integrate, extend.  Systems integration is Barhead's central competency – we have support full end-to-end implementations for many clients;
Value realisation & customer success.  Great marketing solutions start with great implementations, but need ongoing attention, support and guidance.  We can provide ongoing advisory, upskilling & guidance to ensure our clients continue to realise full benefits from their solutions;
Support.  We can provide cost-effective operational support and managed services.  From staff augmentation to full managed services, we can help.
Richard Britton
Richard leads marketing solutions team at Barhead.  As a 20-year veteran in the marketing automation industry, Richard has led and/or supported many marketing technology projects.  With a career that spans consultancy and client-side, Richard has a deep wealth of experience and expertise in all aspects of technology-based marketing.
Richard can be contacted at richard.britton@barhead.com. Alternatively you'll find him on LinkedIn at linkedin.com/in/rabritton/ or on Twitter at @richardbritton