Power Platform Apps
A summary of all apps built entirely in Power Platform
Barhead is a Microsoft Business Applications Inner Circle member and is one of the first consulting firms to develop apps built entirely in Power Platform. Connect solutions together to Office 365, Dynamics 365, Azure and hundreds of other apps—and build end-to-end business solutions.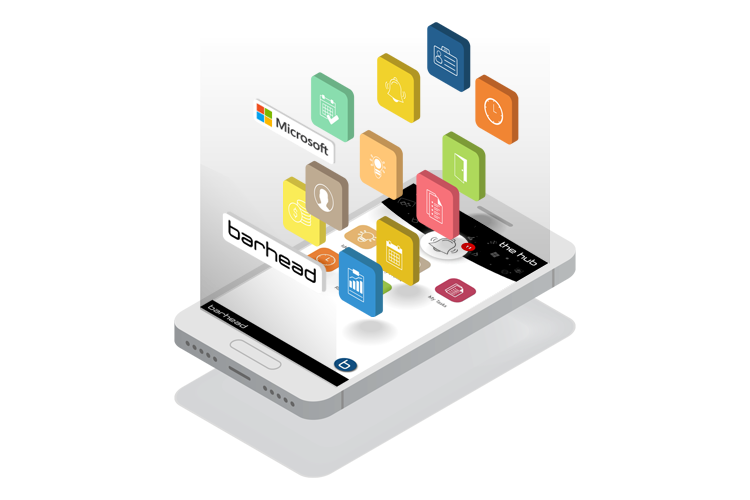 Canvas and Model Driven Apps Tailored to Operational Needs
Maximise Your Power Platform Investment
Clearspace
Returning your workforce to the office post lock-down requires new management approaches, tools and policies. Understand where your employees are working, book spaces, manage facilities utilisation and track & trace health incidents with Clearspace – our Power Platform based solution.
The Hub
The Hub is a mobile application that centralises and brings all applications available on a mobile device.
The Hub is built in Power Apps and Power Automate solution framework that is designed to easily drag and drop elements on a single platform.  Employees can search, view and access all apps while managing notifications from Outlook, Dynamics and Teams.
Easily access applications onsite and offsite.​

Gives a wide range of access to employees.​

Receive notifications in Outlook, Dynamics and Teams without having to access the applications.​
Barista & Jed's Coffee App
The Coffee Apps – Barista and Jed's Coffee are two Power Apps canvas apps that work together in ordering and processing coffee orders. The Barista app enables baristas to manage orders and materials inventory. The Jed's Coffee app allows users to customise beverage orders without the need to go to the barista.​
The Barista and Jed's Coffee app are both user-friendly tablet application built in Power Apps that can be connected to Dynamics 365 data. The Barista app is a standard coffee app made for baristas and displays order queue, order details, customers' information and stock inventory. Jed's Coffee uses Azure cognitive services to require identity verification via facial recognition. It creates customers' orders and displays the available beverages with requested add-ons.​
Manage operational and materials inventory online.​

Easily tag and update stocks available. 

Secure customers' data and customise orders according to preference.​
Event Check-in
The Event Check-in App is one of Barhead's pioneer canvas apps and is an extension of Dynamics 365 for Marketing solution. This canvas app directly connects with Dynamics 365 Marketing events' data to allow your Event and Sales Managers view all upcoming events, registered attendees, and other event details.
Manage events more efficiently.

Provides additional mobility for event managers.

Integrate events data with Dynamics 365.
Room Reservation
The Room Reservation app extends Office 365 via Power Apps canvas app to allow users to search and view room availability and to complete a booking for a selected room
Effortless reservation of rooms for various functions.

Reserve a conference room in advance while booking it remotely.

Easy implementation through integration with Office 365 and Outlook Calendar.
My Time
My Time app allows users to easily enter their timecards and gives approvers their access to complete time entry approvals while being on the go.
Seamless submission and approval process.

Transparency between project resources and project managers.

User friendly interface and functions similar to Dynamics 365.
Walk-in Reservation
The Walk-in Room Reservation app provides the ability to setup a device for each meeting room in your office to display its daily calendar and allow any employee to view room availability and make a reservation.
Walk-in and create room reservation at the doorstep of the selected meeting room.

A centralized solution for an organisation's meeting rooms.

Intuitive and visually appealing user interface.
Ideas App
The Ideas app is a mobile platform where employees can submit proposed ideas to improve processes and business solutions of their organisation. The app serves as a central location for documentation and approval process making all the submitted ideas easily to view and navigate.​
The ideas app is built in Power Apps and is integrated with Microsoft Teams and Office 365. Users can receive notifications via Outlook and get status updates in Teams Ideas channel. Once approved, ideas are automatically posted on the Teams Wiki page. ​
Smooth and seamless documentation of proposing ideas in an organisation.​

Streamlined approach in reviewing and approving ideas on the pipeline. ​

Automate processes and keep everyone informed from the initial stage to posting the approved ideas on Teams Wiki.​
My Profile
My Profile provides a corporate directory of your organisation and is an extension app for Dynamics 365 Project Service Automation and Office 365.
View employee profiles at a glance.

Stay connected with other employees through a mobile device.

Edit your profile information on-the-go.
My Task
My Tasks App is one of the initial apps made by Barhead that provides a consolidated view of all tasks from the user's Microsoft Planner plans boards which will allow you to track and manage all of your assigned tasks.
Increase productivity through streamlined task management.

Encourage collaboration with the app's transparency.

Navigate, edit and view through an intuitive user interface.
Asset Management
The Asset Management canvas allows an organisation to track and manage the allocation of company resources to their employees and for employees to raise support requests for the assets allocated to them.
Seamless asset management and case creation through one app.

Faster and smarter decision-making with a complete view of assets.

More transparency and better collaboration among team members.
Expense Tracker
The Expense Tracker is a canvas Power App which allows an organisation to manage employee's expenses. Users can submit and categorise their expenses while associating them in the projects they are currently involved.
Centralised storage for all of the organisation's expenses.

Collaboration and visibility between Finance Officers and other team members.

Tracking of approval status for submitted expenses.